QT8: The First Eight
United States, 2019
Special Guest!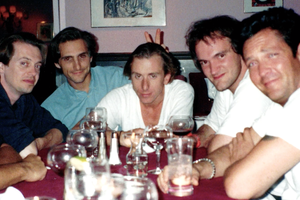 description
Quentin Tarantino is the most influential filmmaker of the past 30 years. His bloody, talky, nonlinear films pull together dozens of influences to form bracingly original cinematic events. Tarantino's films are the best kind of Hollywood tentpoles – wholly unique cinematic visions from a filmmaker at the peak of his powers. As Tarantino's newest film ONCE UPON A TIME IN HOLLYWOOD arrives to praise and controversy, filmmaker Tara Wood takes chronicles the first eight wildly divergent films that Tarantino has helmed, narrated by the actors and collaborators who have worked with him. From RESERVOIR DOGS through THE HATEFUL EIGHT, QT8 digs deep into the story of the most important and controversial filmmaker of our time.
OFFICIAL SELECTION
Haifa International Film Festival 2019
DIRECTOR'S BIO
Tara Wood is a director, producer, and international sales agent, and currently serves as CEO of international film sales company Wood Entertainment. As the director and lead producer of the 21 YEARS SERIES, she co-directed of the award-winning, NY Times critic's pick 21 YEARS: RICHARD LINKLATER. She is currently in pre-production on 21 YEARS: TIM BURTON and DAVID FINCHER.
Buy Tickets - November 30: 4:00PM