Scream, Queen! My Nightmare On Elm Street
United States, 2019 : Canadian Premiere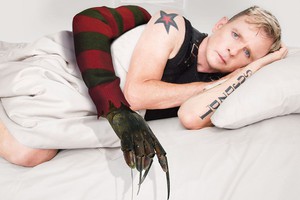 description
Campy and homoerotic, A NIGHTMARE ON ELM STREET 2 has often been called the gayest horror film that Hollywood's ever made. For Mark Patton, it was a true nightmare, as the homophobic backlash effectively ended his film career — and banished him into Garbo-like exile. SCREAM QUEEN! MY NIGHTMARE ON ELM STREET sets the records straight about the controversial sequel, which ended Mark Patton's acting career, just as it was about to begin. This defiant documentary follows Patton as he travels to horror conventions across the U.S., and tells the triumphant tale of the "revenge of first male scream queens," while also cautioning today's LGBTQ community that the nightmare isn't over.
OFFICIAL SELECTION
FantasticFest 2019
Cleveland International Film Festival 2019
Frameline Film Festival 2019
DIRECTOR'S BIO
After graduating from the Institute of Audio Research in 2007, Roman began an internship at the award-winning studio Verbatim Sound Studios in New York City. Working exclusively on sound engineering for film and advertising, Roman has completed design and mixing for a number of recognized features and shorts including: GOLD STAR (starring Robert Vaughn), LAST SUPPER (starring Jim Parrack and Sam Hazeldine), DOUBLE NEGATIVE (starring JoAnna Rhinehart), and HAPPY BIRTHDAY TO ME (starring Whoopi Goldberg). He also won best sound design for his work on the web series HUNTING SEASON from LA's Webfest.
DIRECTOR'S BIO
Tyler Jensen is a director and editor based in NYC. He studied film and photography at Perpich Center For Arts Education and Minneapolis Community And Technical College. His month long filmmaking endeavor 30 films/30 Days had him writing/directing/shooting/editing/and publishing a new short film for 30 consecutive days and won the audience award at the Minneapolis Underground Film Festival. He's created original music videos for the likes CHVRCHES, Big Dipper, The Carry Nation, Matracia, Skeleton Head, and L'Assassins. His short form narrative, documentary and music video work has been featured on The New Yorker, Vice, Pitchfork, Boiler Room, TPT channel 2 and The Walker Art Center. SCREAM, QUEEN! Is his first feature length documentary
Buy Tickets - November 29: 9:30PM