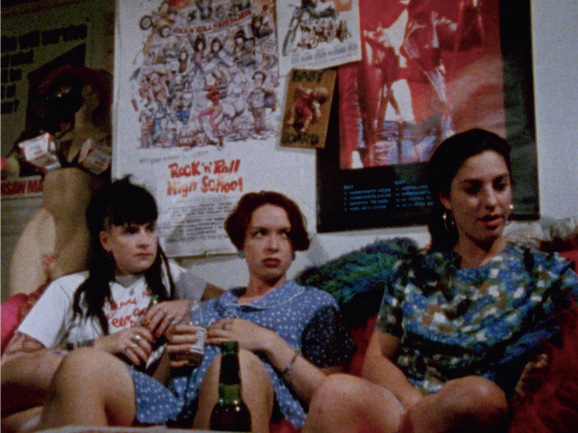 OFF THE CUFF: MARY JANE'S NOT A VIRGIN ANYMORE (1998)
Celebrate Valentine's Day CUFF-style, with an Off the CUFF screening of MARY JANE'S NOT A VIRGIN ANYMORE (1998). See a brand new 2K preservation of Sarah Jacobson's punk-spirited DIY film, preceded by her short I WAS A TEENAGE SERIAL KILLER (1993).
When: Wednesday, February 13 @ 7:00 pm
Where: Globe Cinema, Downstairs (617 8 Ave SW)
Tickets: $10 ($8 members / students / seniors)
BUY TICKETS
ABOUT THE FILMS
The American Genre Film Archive (AGFA) is thrilled to present new 2K preservations of these cinematic beacons combining B-movie aesthetics and riot grrrl feminism! Inspired by underground cinema, record labels and 'zine culture, Sarah Jacobson was a one-woman '90s DIY powerhouse. Taking on every major function from production through distribution, Jacobson's fuck-you, can-do attitude shone through her onscreen work and beyond. In her short life, Sarah found fans amongst other female culture-shifting titans Allison Anders, Tamra Davis, and Kim Gordon. These films stand as a testament to Sarah's vision, grit, determination, and raw talent.
I WAS A TEENAGE SERIAL KILLER (1993)
The 25-minute short was produced with the encouragement of filmmaker George Kuchar (HOLD ME WHILE I'M NAKED), Jacobson's instructor at San Francisco Institute of the Arts. Like SLACKER meets Valerie Solanas, the film depicts a 19-year old woman who responds to catcalls, condescension and bad sex the only way she knows how -- with murder.
MARY JANE'S NOT A VIRGIN ANYMORE (1998)
Jacobson's only feature film, MARY JANE'S NOT A VIRGIN ANYMORE (1998), is a vibrant and vital antidote to every phony Hollywood teen picture. It brings lo-fi realness to the coming-of-age genre, and it mostly takes place in a repertory movie theater. First job, first time, crushes, friendships, fitting in and figuring it out -- all are handled with utter honesty.
OFF THE CUFF is a year-round series presented by the Calgary Underground Film Festival. For those films we just couldn't make work with our festival dates, we go off the CUFF. The restoration of MARY JANE'S NOT A VIRGIN ANYMORE will play theatrically in summer 2019.
All films take place at Globe Cinema, located at 617 8 Ave SW.
Download the Guide